FWSQ Blocks .... and a Swap At Amy Made That!
I am having fun adding to my Farmer's Wife Sampler Quilt block pile.... slowly but surely.
You can see the blocks in more detail... all together Here
The first new block: #21 Contrary Wife
FWSQ Block #21 Contrary Wife by Susie's Sunroom
This was an easy block to make. I feel like this is another "classic " block from the book, that I finally got to make!
And I liked the color combination so well, that I used the same fabrics for block #22...
Block #22 Corn & Beans:
FWSQ block #22 Corn & Beans by Susie's Sunroom
I was happy with all of the little triangles, using the paper pieced pattern. I did have to make two copies of the pattern, and use various pieces of both papers to put it together in a way that I could envison. (Maybe my brain doesn't work the same way as the pattern designer....when sewing the pieces all together again!
It surely would've been "succotash" if I didn't do it my way!!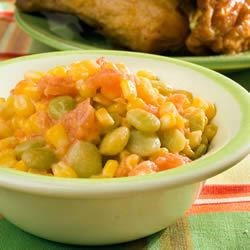 Corn and Beans Succotash
Ok, you can stop groaning now.... I apologize for that one! Back to the Farmer's Wife Quilt Sampler blocks....
FWQS blocks #21 Contrary Wife and #22 Corn & Beans by Susie's Sunroom
Progress on the blocks
Check out more blocks at the Flickr group (click here) and my blocks (here)
The SWAP ALERT:
And now, in case you didn't know.... there is a really fun swap going on again at my sister's blog, Amy Made That! Guess what the swap item is this time?
Needle books !!

Here are the details from Amy :
"Need A Little Needle Book Swap"
Amy made this needle book..... this tutorial at Nana Company
sign up at:
eamylove@aol.com
1. Join the swap by May 31, 2014.
All you need to do is send an email to me at
eamylove@aol.com
with your mailing address.
2. Let me know if you could do an international swap,
or if you prefer to stay within your own country.
You can also let me know if you have any preferences of colors
or styles you would like to receive from your partner.
3. I will assign you a partner. My target date is June 7, 2014.
You will receive an email from me, near that date.
4. It's up to you, whether you would like to keep your identity
from your partner, or would like to contact her to get to know her tastes.
5. Create a needle book for your partner and mail it out
by June 30, 2014.
6. Feel free to include any extras your partner might enjoy...
sweets, sewing notions, fabric scraps or another handmade item.
7. Have some fun posting pictures on your blog or on Flickr.
You can give sneak peeks or just go ahead and show it all.
It's fun to get inspiration from others.
8. Reach out to me, via email, if you have any issues.
Things happen...and sometimes we need a little support
or just can't meet the target date.
I can contact your partner to let them know to be patient...
something good is about to happen.
9. If you need to bow out gracefully, that's okay, too.
No stress permitted in this swap!
10. Above all, encourage one another.
Make new friends with your fellow swappers,
visit their blogs, comment on their photos, and enjoy the group.
So, now...we need a little information...
just what are we swapping???
A needle book is basically just
a pretty little
sewing booklet
with pages of fabric or felt,
for
keeping pins and needles safe and handy.
I had so much fun making this same needle book, as an extra goody gift, in the swap,
T
he Skinny Pincushion Swap, this past March . (It was the first swap that Amy hosted. )
I believe that over 50 quilters swapped the skinny pinnies!
These are so dear, and can be customized in a million different ways. Look what I did for the back of this one....
Skinny Pincushion and a coordinating needle book
So, if you'd like to make a new quilty friend or two, maybe even from another country, hurry and

sign up before May 31

! That's this Saturday! It is sew fun to make something for a new friend, and then to get a nice surprise for yourself in the mail! These really do not take a long time to make, so it is a fun summertime project to make.
Speaking of swaps....that reminds me....very soon, I'll be sharing about the most recent swap that I have been in. It is called , The Springtime Flowers Mug Rug Swap.... hosted by Michele at Quilting Gallery, with the mug rugs designed by Amanda, The Patchsmith! I am just waiting (eagerly) for my partner to send me my package, and then I will post about this swap!
Won't you join in with us, and be in the

"Need A Little Needle Book Swap" ?!
Inside of my needle book
I'm off to my sewing room!