I love participating in Sew Alongs.
This month, I continued to work on my Crossroads Quilt and my Sherbet and Creams Quilt.
Both of these quilts are designed by the talented Joanna Figueroa, from Fig Tree Quilts! (It's no secret that I love using Fig Tree & Company fabrics and patterns!!)
The Crossroads Quilt:
This quilt is a collaboration between Kimberly, of The Fat Quarter Shop, and Joanna, and it benefits the
March of Dimes
.
The Crossroads Quilt was designed to showcase the Strawberry Fields Revisited fabric line by Fig Tree. Since I have a LOT of Fig Tree fabrics in my stash, I am using various fabrics from different Fig Tree fabric lines: Millhouse Inn, Buttercup, Strawberry Fields
I think I will love the "scrappy Figgy" look!
(Ok, I have to confess.... I did buy some yardage of the Strawberry Fields Revisited, too. That gorgeous yellow with the small red flowers and dots you'll see in the second Diamond block.)
House Block: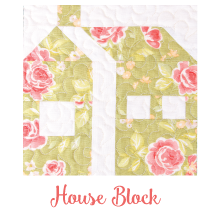 House blocks
* Note: The Green house doesn't have a crooked chimney! It just needs pressed!! LOL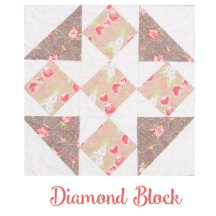 Diamond Block:
Diamond Blocks
I love these brown fabrics!!
Friendship Block:
Friendship Blocks
Crossroad Blocks so far....
Stay tuned for more!!
The Sherbet and Creams Quilt Along Quilt: at Fig Tree Quilts Blog
Joanna started this Quilt Along in posts on her blog. She had me hooked at "low volume!"
I was all set to buy a bundle of their low volume fabrics, until I discovered that I had enough more than enough Fig Tree low volumes in my stash already! BIG SHOCK! Not!!
Remember these?
My selection of low volumes
And these...
80 Pumpkin Seed applique' pieces in Sherbets
The latest step was to sew each pumpkin seed to a 4 patch block. I enjoyed this easy sewing. I had my walking foot on the machine, and decided to use it . I just sewed a straight stitch along the outer edge of each pumpkin seed. I found matched colors of thread from my Madeira (rayon) embroidery thread set.
Joanna will be busy at Quilt Market for awhile now. So I will have some extra time to pet and admire my piles of low volume blocks!!
Do you have a fun quilt along you are sewing in now?
I'm off to my sewing room!