January's Across The Pond Sew Along Project
I hope that everybody had a wonderful holiday season, and that you will have a terrific year in 2013 !
I spent a lot of time away from my sewing machine, and really missed sewing. Now I am ready to tackle a new project. (Don't worry... I was not "without any addictions !" I got hooked on knitting ruffled scarves with my mother and sister! Have needles, will travel! )
I wanted to find a fun project for our sew along this month... one that is not super difficult ... (My mind is still racing from all of the rushing around from the egg nog holiday events and preparations.) I will still be busy getting back to some kind of routine, and putting away Christmas decorations throughout January. (The tree may be up until mid-January... lucky it is an artifical tree! And that our cat , Whiskers, doesn't bother the tree and ornaments!)
January 's Across the Pond Sew Along:
The January Project is:
The Bird Pin Cushion/ Sachet created by Joel Dewberry.
Click on this

link

to go directly to the free pattern and directions!!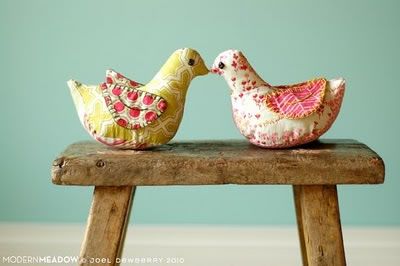 From the DIY dish.com and Joel Dewberry
I have not made up this dear little birdie yet, but plan on doing it very soon. It looks very straight-forward, and has some hand embroidery. (You can do just a little... or do a lot! It's up to you and your imagination!)
Pattern link:
http://www.thediydish.com/promo/theDIYdish_Season3_Ep1_BirdPinCushion.pdf
As a little refresher, in case you missed our first 2 projects in the Across The Pond Sew Along.... these are some pictures of projects that are in our Across the Pond Sew Along Flickr group:
November 2012: The Anita Vacation Tote bag, by Amy Made That!
Just click on the name, and the link will take you to their Flickr pages, and you can connect to their delightful blogs!
This is the kind of " easy -going " sew along, where you can join in on projects that you are interested in, or want to learn to do, or opt out of... when you are too busy. Plus , you can
share
and
see input from other sewers on the same project in our
Flickr group
discussions!
Come on and sew along with us!!
I can't wait to see how beautiful , creative, and individualized our little birdie pin cushions and sachets will be! Please do link to the Flickr group, or send me your pictures!
The first bird has already taken flight on the web.... Amanda, of The Patchsmith has made her first little beauty... at Tweet Start to 2013 ! She has some wonderfil tips!!
I can't wait to dig through my stash for my Birdie Fabrics!!!
Whiskers loves to nap on this scratchy gold metallic tree skirt! Crazy girl!
I'm off to my sewing room!