Across the Pond Sew Along... Bird Pincushion
This morning, I told you about this month's Across The Pond Sew Along project for January, 2013.
January 's Across the Pond Sew Along:
The January Project is
:
The Bird Pin Cushion/ Sachet created by Joel Dewberry.
Click on this
link
to go directly to the free pattern and directions!!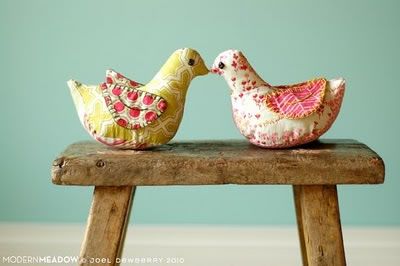 From the DIY dish.com and Joel Dewberry
Get the pattern and directions, for free, at this link below:
http://www.thediydish.com/promo/theDIYdish_Season3_Ep1_BirdPinCushion.pdf
I love pin cushions and don't think that I can ever have too many of them!
I chose my fabrics for a cheerful little bird: 'Piccadilly Lane' by Brenda Pinnick for Henry Glass and Company, for the body, yellow polka dots for the belly, and a turquoise damask for the wings.
I studied Amanda's blog,
The Patchsmith
, and read about her experience making this bird . She has many wonderful tips, and I recommend you hopping over to read them before beginning the project!
I decided to try making my main body WITH the yellow beak "paper pieced" onto it. With hopes that maybe it wouldn't be bulky when turning it inside out.
I traced a piece of freezer paper with the beak shape and a 1/4 " seam allowance
I then sewed the beak to the end of his face... just like it was paper pieced
This is the wrong side of the body, with the yellow beak pieced onto it.
The bird is now "one piece" with the beak. It was easy to turn inside out.
I used some brightly colored pony beads for her eyes. For the wings, I ironed on some Pellon Fusible Fleece 987 to the top pieces. (I liked this on Amanda's bird. It makes them a bit fuller.)
I used lots of pins, and matched the dots on the pattern. I also sewed in small sections , checking that I caught all of the fabric in the seams.
I decided to add the wings to the body AFTER sewing the sides to the bottom ( as Amanda did. ) I used nylon invisible thread to attach them to her body. (I am not too good at hiding stitches!)
I filled my bird with fiberfill in the head and tail areas, and then with crushed walnut shell cat litter for the rest of the body. ( I got this at a pet store... they use it for bird cages, too.) This adds a nice weight to the pincushion. I like this walnut shell filling a lot!
See my fancy feather pins that Amy gave me for Christmas?!
I think that I will make lots of these cute birds for different holidays, to decorate my sewing room!
Then you can link to our Flickr group and 'strut your feathers' with us!
I'm off to my sewing room!